Meeta - A big hug and thanks for that wonderful, exotic and really royal dessert - Semifredo! My son licked his tongue over his lips and asked for more, my husband gave you a ten on ten and my daughter said - "Oh! This thing makes me feel so nice and good!". You also gave me many other wonderful ideas, and I will give them all at the end of this post!! Thanks also for assisting me with the substitutions:) I appreciate that very much.


Zlamushka

- Thanks for starting this

event

, Spice girl. Believe me, I would never have tried out this dessert had it not been for

Taste and Create featuring Meeta's blog

! For one thing that really scares me is whether I will get it as perfect as Meeta does.
Look at this and tell me!! Oh Yes! She was right when she called it Mr.Perfect:)
Red Grapes, Strawberry Semifredo



As I have ranted many times before and I am sure you might have anticipated what the problem is - Yes! Our net service at home is still shaky, and these days I put down my post in a word document. The minute I see that things are right - Voila...just cut and paste!! So here goes - paste:)


When Zlamushka announced this month's T&T blog, I knew my entry was going to be there for sure.

Going over to Meeta's simple and elegantly maintained blog 'What's for Lunch, Honey?', has always been hazardous for mere mortals like me. Don't get me wrong there! First you spend a good 10 minutes drooling over the first picture – the top one, and then another 10 minutes over the 'verdict' picture, which not only makes you gasp, but also leaves you a little sad – sad because all you get is the virtual slice, not the real one! If only I was her neighbor! To top it all, if you are like me, you may have allotted a certain amount of time to browse a certain number of blogs (I plan only trivial matters like these and leave all the bigger plans to dear P!), and this is one blog which is sure to upset it all. In other words, I have learnt over time that it is best kept as a show stopper!

All that said you may wonder – Well, girl? Why did you not make anything from her blog before? The answer is – I was intimidated! I could never bring myself to imagine that I could create masterpieces like hers. Thanks, Zlamushka for forcing me to act! I just discovered that it is possible for me to create magic too – OK! Not to that degree, I will get there soon!

After a lot of thought and examining the dessert section, I chose the 'Cherry Semifredo', as it was pink, had chocolate, involved no baking and was easy to convert to 'vegan'. If you have been here earlier, you must be familiar with the change in diet – from veg. to vegan, but I do slip once in a while! Still have to develop that Iron resolve to avoid tea and coffee. I have reduced the quantity to ½ cup a day, and am surprised that I did not yearn for 'thair chaadam'/'curd rice' as much as I thought I would! Also the non-availability of many vegan substitutes makes things very difficult, so I gave in this once!

Without any further ado, let me give you my version! The semifredo was Ummm….. like Heaven! For a person who is quite particular about not licking spoons it is a little difficult to admit – but I actually licked (Yes! I did) my fingers clean after patting the chocolate crust in place, then my daughter and I licked the compote left overs quite happily (I did not lose sanity though – I washed my hands each time I licked!).

Notes: I had to do with available ingredients while trying to remain vegan. This ended up 'semi-vegan' if, there is such a term, if not, well! you have it now! Having made this once, I know it can be easily made vegan next time. Just requires a little bit of pre-planning! Do go over to Meeta's recipe here, AFTER you are done with mine! I used two tart tins, one 5", and one 7", as my springform cake tin is too big for the reduced recipe. This reduced the height of the semifredo. A good thing as one eats smaller portions! I recommend that you hang the firm silken mori-nu tofu for at least ½ an hour to drain the water completely before proceeding with the recipe. Mine had quite a bit of water as I drained it for only 10 minutes and did not realize at that moment but, it is this retention which did not allow the dessert to set quickly. I also realized that this recipe with a little more adaptation serves as an excellent filling or icing to any cake! My daughter decided that it would taste best as a topping in fruit tartletts. I am thrilled with this bit as she is showing all the signs of a willing gourmet!

Ingredients for the base:
100g – Plain Chocolate, coarsely chopped (I used 'Morde' – no vegan subs. available)
1 tbsp. – Vegan Butter (Nutralite)
1 and ½ pack – Hide 'n Seek classic chocochip cookies – frozen and crushed fine with a rolling pin (This one is vegan)




Method for the base:
Mix the chopped chocolate with the thawed butter and microwave at low for 10 to 20s. Check after every 5s, and mix in before continuing till the chocolate is just melted.

Mix the melted chocolate with the crushed cookies well and press into a greased tart tin (Do this with hand, otherwise you don't get to lick much!).

Refrigerate for at least an hour.

Meanwhile proceed with the rest of the things.

Ingredients for the rest of the topping:
1 and ½ cup or 10 to 12 - Red Grapes, halved and pitted. (Meeta used cherry but it is not the season anymore, the red grapes replaced them quite beautifully!)
(As they were quite large, I cut each one into 4 rings)
¼ Cup – Almonds (Chop fine with skin on)
3 tbsp. – Strawberry juice as I did not find Cherry juice in the nearby shop
(1tbsp. Strawberry syrup diluted with 3 tbsp. water)
150 ml. – Strawberry juice (50ml. syrup diluted)
3 tbsps. – Brown and Polson Vanilla flavoured Custard Powder
(Meeta used vanilla sauce powder but that isn't available here and the custard pdr is just great anyways - Could someone tell me how many spoons is 1 packet Vanilla Sauce Powder?)
About 4 tbsps. – Double Dream Cream Powder
(This is not vegan and I plan to use coconut cream next time, any other ideas are most welcome!)
One packet – Mori Nu Firm Silken Tofu (Hung for ½ an hour to drain the water)
(Sofit's tofu is really no match here!)
1-2tbsp. – Icing sugar (Depending on how sweet you like it)
½ a lime – squeezed

Method
Microwave the almonds on medium power to roast even. Mine took 4 minutes, and I kept checking every minute, and stirring it before continuing. Alternately just roast in a non-stick pan without adding fat. Leave to cool.

Mix 3 tbsp. strawberry juice with 2 and ½ tbsps. Of vanilla custard powder.

Bring the rest of the juice (150ml.) to a boil. Add the Custard – juice mixture, stirring all the while. Simmer till the mixture thickens. Just remember that you have to get a pudding consistency later. Set aside to cool.

Run the firm silken tofu in the mixer till creamy.

Beat the cream powder with a cube of ice till you get a thick cream. Fold in the creamy tofu, icing sugar and lime juice till blended. Do not beat.




Add the powdered, roasted almonds, and the cooled strawberry-grape custard/compote, and fold till blended. Mine became runny thanks to the water in the tofu! This was when I realized my mistake and knew the dessert would not set completely. Please remember to hang the tofu in a muslin cloth till the water is completely drained before creaming.




Pour the mixture between the two tart tins over the cookie base, and smoothen the top. Cover with a foil and freeze till set. Meeta recommends 6 hours, but my kids and I could not resist (We had licked the bowl between us earlier and knew the taste!). We had it soon after dinner and the semifredo was cooled only for two hours, and even my son licked his plate clean!!

However, I kept the smaller tart covered with a foil in the freezer (Not in the fridge section), as the Indian climate thaws it pretty soon. The freezer version was perfect in every way!


Verdict: Pure indulgence of the sense, blissful, sinful ecstasy!! Just look - I am not exaggerating!! Next time I do not intend to use the cream at all - the silken tofu was more than enough for the texture - will let you know what happens then... or maybe you could try it and let me know!

I had set aside some grapes for the pic but they were all gone before I could!! But then what is the whole point of keeping them if the kids don't relish! And the best part - no baking!

Tips:I feel the topping makes an excellent filling by itself or with fruits on tartletts, and also replaces a cake icing very effectively!

While browsing other blogs today I realised that this recipe qualifies for many other events too:

1. I am sending this to Sia of Monsoon Spice for WBB Summer Feast. WBB is a monthly event started by Nandita of Saffron Hut from Aamchi Mumbai. Sia is the guest host for the month. I could have this dessert any time of the year though!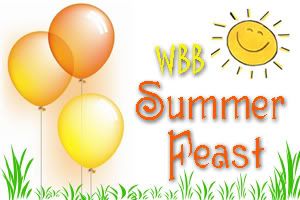 2. There is a lot of protein thanks to the tofu, and very little cream so I hope this qualifies for Sangeeth's Eat Healthy - Protein Rich Contest!


3. I hope this qualitfies for Mythreyee's Paajaka - Sweet Series. I am sending this under the head of custards, as that is the consistency of the dish. Better still why not call it a custard on a crust! Mythreyee's Paajaka Recipes has some really yum recipes - lots of traditional ones, and I have bookmarked her for Diwali! Please go over the link and drool over the last month's yummy entries!


____________________________________________________________________

While you are here please go over to this post announcing my first ever event - Food in colours. The rules are here. The event began on 27.07.08 and goes on upto 27.08.08. The colour for the month of August is RED!! Yaawwnnnn!! G'Night!


Labels: Blog events, Colour - Peach, Ing. - Red Grapes, Ing. - Tofu, Type - Desserts, Vegetarian - Dessert