As always I was surprised at the amazing array of food you came up with, and I thought Purple was a challenge!! I am happy that I have to eat my words - you proved me wrong, and gave me literally 'food for thought':). Not only food for thought but FIC purple and black turned out to be a round up of 'healthy healthy food' - mostly beets, cabbage and grapes!

Before we go on to the round up - the color for December is ?, your hostess is ?


"Last but not least add your 'love' to make the dish 'YUMMY'.
"
No prizes for guessing that right:) This time
Lubna Karim, my friend from 'Yummy Food'
is your guest hostess so please look up her blog for
the event announcement and details
.She has chosen a beautiful color for December, and I am already getting goosebumps because I know that not only is the time right for the color, but it is a color that evokes endless images of lovely dishes, why dishes....anything beautiful! The logo also designed by her will tell you more:
Looking forward to the gathering there next month:). If you have in mind a color you love and would like to host FIC, do drop me a mail at sunshinemomsblog[at]gmail[dot]com.

-----------------------------------------------------------------------------------------------------


This month's round up is in reverse alphabetical order:). Why should 'A', 'B' and 'C' always get to be first?? A warm welcome to the many newcomers to FIC this month, and to my old friends who have always been supportive! Purple is royal, it is the color is of the highest order - it is the color of the
crown chakra.
It is now the color of food. Black is beautiful, black is mystery - don't worry the food isn't! This time the food is first for sight and then for taste - Really!
FOOD IN COLORS - PURPLE AND BLACK...


THE FEAST...



'V'




'U'


Ujju of Cuisine Point
(Third newcomer in a row!) sent in a '
Blaukraut Palya
' - I wondered about the name but it is simply red cabbage:). I love anything when there is a smattering of coconut on top:)
'T'

'S'
Updated - As usual I forgot myself!
Sunshinemom of Tongue Ticklers
at the insistence of her kids made a
berry semifreddo
which turned out the perfect color for FIC:)
For the first we have the Queen of Melas too -
Srivalli of Cooking 4 all Seasons
with a delicious
Kaai Kani Halwa
with a medley of delicious fruits in it! Yum:)
Sra of 'When My Soup Came Alive'
is first time on FIC too, and she brings in '
Kashmiri Black Beans'
which started black, turned purple and ended brown and tasty too:). Find out why
here
!
Sowmya of Creative saga
has a lovely
red cabbage chutney
that reads spicy and tasty!
Soma of ecurry
has very nice 'about' poem which I read just today - do read it as you gaze or hog on this yummy '
Almond Panna Cotta and Zesty Berry Compote
'!
Shama Nagarajan of EASY2COOK Recipes
has a simple and quick morning drink -
Pom juice
and....
....
beetroot poriyal
Updated!
I somehow missed including Shama's Sesame chutney/Ellu Chutney/Til Chutney - Sorry Shama, and thanks for bringing it to my notice! I even remember thinking this was a new recipe and so perfectly black!
Updated on 03.12. - Looks like I missed out most of Shama's entries:(, and she sent such a medley of dishes to spice up the round up - I am sorry Shama!
Here is the healthy
beetroot soup
, and...
followed by a choice between (You can have both, and not choose)
Cabbage rice with paruppu podi
(South Indian Lentil spice powder) as its tasty and healthy. and.....

Beetroot Moongdal Rice - Delightful! Thanks for the foursome, Priya!



ending with a tasty preserve for your kids - Beetroot jam! Awesome:)

a dessert that spells - YUM! "
Orange quark creme with blackberry sauce
" - how yum does that sound?
Padmajha Suresh 'Seduces your Tastebuds
' with a salad again - '
Black Bean Salad'
. Most of some seem to be keen on staying light!
'N'
Navita entered Blogosphere in October with Zaayeka
, and hails the king of veggies with '
baingan bhaja
'. Hail!
'M'


'L'


Lakshmi of Taste of Mysore, has always sent in amazing dishes to FIC. This time it is 'Beetroot Chutney' - there are many more Karnataka flavors in this post, but then, you must visit her:)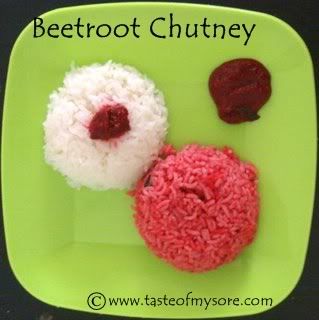 'K'
'J'
Jaya of 'Spice & Curry'
sends in a '
Begun Pora
' (Roasted eggplant) which makes me go 'aake chali, baake chali.....path bate takka begun pora':) Thanks for bringing that song on my lips, and the flavor of roasted eggplant, Jaya!
'D'
Divya of 'Dil Se'
sent in a health tonic that I am sure kids and adults will love alike - '
Blackberry smoothie
'.
'B'
When it's black how can one not have a
dal makhani
to grace the occasion? This one comes from
Bhagyashri of Taste Buds
, and it looks mouthwatering with the jeera rice. I am sure you will have to entertain many of us if this is what you dish out!
'A'
A day late but too good
I know I am breaking the rules, but I just could not resist
Simran's
(of Bombay Foodie) 'Forbid Me Not' - No dear, how could I? This is so different and perfect and something new! '
Forbidden Rice
' - I just could not deprive you all from this one, so please forgive me if you feel I am unfair but to withold it would have been unfair too! If you feel I was wrong in including this please leave that too in the comment box!
Labels: Blog event - FIC Round up