Thank you all!



FRENCH BEANS PORIYAL: This simple and tasty vegetable preparation is brought to you by Vani of Illtharasi.



YARD LONG BEANS SUBJI: Shreya of Mom's Cooking meant to make this like her Mom but it ended up different and tasty!



VENDAKKAI MANDI - Lakshmi of Kitchen Chronicles presents an authentic okra dish made in combination with black eyed peas, from Chettinadu! For those who are new to the name - Lakshmi enlightens "Mandi means a dish with saucy consistency made from the water washed from the rice. "



OKRA AND PEARL ONION CURRY - A slight twist to the usual bhindi fry from Mahimaa of Indian Vegetarian Kitchen. She tried this from Bhawana's recipe at Tastes of India, and enjoyed every bite of it!



UPDATED: BHINDI FRY - ANOTHER VERSION: I completely forgot to add my own entries as there were no emails:) Sometimes Sunshinemom of TONGUE TICKLERS...... makes it for herself like this..


or for her family like these


BROCCOLI

SNAKE GOURD FRY/PUDALANGAI PORIYAL: Vani of Illatharasi has a treasure house of South Indian recipes. Look at this!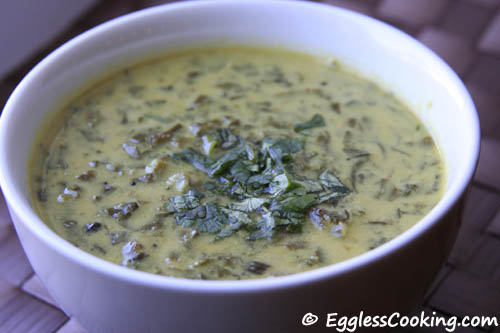 DRUMSTICK LEAVES PORIYAL: Another South Indian Delicacy from Vani of Illatharasi - this one is said to boost lactation. Perfect for expectant mothers.





SPINACH


DAL PALAK PARATHA: Ever so popular, palak is taken in so many forms, and here's how you churn out a healthy wholesome dish with leftover dal - the Easy Craft Way:)



GREEN GRAM MASALA AND PALAK ROTIS - Dershana - The Footloose Chef invites you to her blog with these words - "One of the benefits of being born to parents who dared an interstate marriage (am talking about India of the 70's) was being able to widen a regional taste bud to accept, experiment and, relish eclectic cuisines :-)". You will see the results in this unique combo of palak rotis with green gram masala which contains coconut and onions!



PALAK ROTI AUR MIRCHI KA SALAN: 'Jaysree of Experiments in Kailas Kitchen' makes it a point to cook leafy veggies at least once a week - why not? It's for the best, and she shares this nutritious palak roti along with mirchi ka salan - a spicy tangy recipe made in true Hyderabadi way! Check out this combo:



SPINACH ROTIS: Yet another dish from Easycrafts of Simple Indian Food! "Spinach is rich in vitamins and minerals, particularly folic acid, magnesium and vitamin K......" vouches EC. Why wait - just dig in!



KEERAI KADAIYAL - PJ (Padmajha Suresh) of Seduce your tastebuds says - "I am sure that all of us[or at least most of us] have gone through the 'I-hate-greens' phase in spite of hearing the advice -"Eat your greens"! .Looking back now,I can understand why mom used to emphasize on the addition of greens in the diet." See how she makes you eat your greens!



KEERAI MASIYAL: If Palak Paneer is from the North of India, its South Indian cousin is Keerai Masiyal/Kadaiyal. This one from Radhika of Tickling Palates must be the most authentic - she actually made it in a 'keerai chatti' - an earthen vessel specially made for certain delicacies!
PALAK PANEER reigns supreme when it comes to spinach. Here are the many variants:



KEERAI MASIYAL/CHEERA CURRY/MASHED SPINACH CURRY - Yet another delectable version, this time from Nags of Edible Garden, using amaranth leaves! She gives a warning though - "Do not re-heat this curry since the nitrous present in the leaves can be harmful for us, especially kids."


KEERAI MOLAGOOTAL: This one I can vouch for! It is my favourite prepared by Jayasree of Experiments in Kailas Kitchen. Molagootal is typically served with archakalaki - see Jaya's blog for nellikai archakalaki!





PALAK PANEER:


VERSION 1: See? I told you it is the cousin! Bhagyashri from Taste Buds had a bad experience at a takeaway restaurant and resolved never to go for palak paneer in London hotels! She had to make it at home! I am glad she did - it looks so tempting:)



VERSION 2: Easy Crafts of Simple Indian Food serves yummy dishes with ease. Check out her version:



VERSION 3: Sowmya of Creative Saga completes the trio! Sowmya says she wanted to get the best out of her palak paneer and so she has used a different set of ingredients - the end result looks yummy:)



THE UPDATED VERSION 4: I missed Raaji's version at Raaji's kitchen in my round up - thanks for bringing it to my notice, Raaji! Surprisingly - I forgot to include my entries too:)



SPINACH RICE: Easy crafts of Simple Indian Food makes me drool with this favourite of mine. Her inspiration for this creation is from Usha of My Spicy Kitchen.



KEERAI WITH DAL OR DAL PALAK: EasyCrafts presents a simple side dish - I say spinach is exotic however you make it!



SPINACH SAMBAR: Mythreyee of Paajaka Recipes tells us the real reason why Popeye loves spinach - "

We all know that Popeye made himself super strong by eating spinach, but you may be surprised to learn that he may also have been protecting himself against osteoporosis, heart disease, colon cancer, arthritis, and other diseases at the same time.

" So here's a super strong recipe for 'palak soppu' or spinach sambar:



PALAK DHOKLA: When I saw this creation I had no doubt why Supriya is the 'Queen of her kitchen'! She is a new blogger who began in September - Welcome to blogosphere, Supriya! I hope you make many friends here like I did:)




GONGURA/SORREL LEAVES

AMBADICHI BHAJI / GONGURA SUBZI - This one is a Maharashtrian dish from Mints of 'Vadani Kaval Gheta' - Did you just feel a that tang, squint your eyes and click that tongue against the roof of your mouth OR was that too technical - that's what Sorrel leaves make you do - See the magic Mints weaves here!



GONGURA PACHADI / SORREL LEAVES PICKLE:

VERSION1: The Universal Andhra Favourite - I call it! You do not have to depend on Priya Pickles anymore. Uma of Essence of Andhra asserts its benefits for the anaemic, and shows you how you can make it at home!



VERSION 2: The Andhra dish is obviously a favorite with most people. Check out Vani's version at Illatharasi.


GREEN TOMATO
Aparna of 'My Diverse Kitchen' summarises this lovely 'Green Tomato Khorma' thus - " My khorma is a South Indian one and uses a little bit of coconut." And it is more than just that - a glimpse promises to tickle your taste buds!



PEPPER - BELL, GREEN, CHILLI - WHATEVER...






CHEESE STUFFED JALAPENO - "Indulge in the hot cheesy jalapenos..And yes, you easily get addicted to these..We had no leftovers!" Divya Vikram of 'Dil Se' warns you first about how fiery they are and then tempts you with these delectable stuffed peppers!!



CHILLI RELENOS - Sweatha of Tasty Curry Leaf assures that this is easy! Don't let the name daunt you - "It is actually roasted Poblano Pepper stuffed with cheese and meat or vegetables and then deep fried or shallow fried and then served with salsa.It is similar to Milagu Bajji served in India as a snack." And the result......Ooooh so cheesy!


PLANTAIN FRY: Priya from Spicy South Indian Recipes vouches for this dish which she says is made by Ma In law - Looks tempting:)


ZUCHCHINI AND SPLIT GREEN PEA SOUP

:

"....in my neck of the woods the temperatures are dropping,there is a nip in the air and the air is decidedly brisk. For me all of these things are reasons to celebrate since.....". Any guesses as to what Usha from Veg Inspirations is celebrating with this tantalizing hearty soup?? Check out her blog for more!



ZUCCHINI AND CORIANDER FLOWER SOUP: Sunshinemom (Me) of TONGUE TICKLERS...... saw this in a magazine and decided to try it and realized that flower has power:)





FRUITS



AVOCADO

GUACAMOLE - Deepti of Vegetable Platter makes it really easy for the uninitiated to try Mexican dishes. She makes you comfortable saying

"Guacamole is a matter of taste & not measurements

. Go Ahead & make your own Guacamole now . . . "


____________________________________________________________________


LEGUMES


CHICKPEAS, GREEN GRAM, VAL ETC....

CILANTRO HUMMUS: Bharti of "Veggie Foodlist" talks about something that we all should consciously work for - rethink and check your ecological footprints - it matters!! She makes a mouthwatering hummus flavored with cilantro and asserts - "This cilantro version tastes zesty and very desi-ish. Almost like hummus meets green chutney. Eat it as a dip with pita bread, carrot or celery sticks. It also pairs well with feta cheese in a Greek style wrap or sandwich." Point taken M'm - I love this:)


GREEN CHICKPEAS CUTLETS - Easy Crafts from Simple Indian Food motivates me a lot!! I wonder how she can be so energetic - I guess these nutritious cutlets give her the amount of energy it takes to maintain and constantly contribute to 6 blogs!!



PESARATTU - Vij is a young cook and blogs her adventures at "Foodie n her Cooking Hat" and started her foray like this - "She grew up thinking that women who cook all the time have nothing worth doing in life… but little did she know....". Look at what she used for the 'Green'

dish -

green

gram,

green

chillies,

spinach

,

coriander

leaves and

curry

leaves

- all her ingredients were green!! Very innovative!!





PESARAT DOSA: Obviously this healthy dosa is a favourite with many! This one is made by EasyCrafts of Simple Indian Food!



VALACHI BHIRDE: This is a Maharashtrian delicacy, and also very nutritious. It comes from Meera of Enjoy Indian Food. We sure do, Meera!



HERBS:



CORIANDER/CILANTRO:
3 IN 1 CHUTNEY: "no need of stirring, tossing the veggies..." - Priya's Easy N Tasy Recipes make it real easy:) Check out!



CILANTRO CREPES: "These dosas/adai can be prepared immediately after grinding the batter. Fermentation is not necessary." Now! Doesn't that sound good! Find out how to make these healthy "Brown rice and Cilantro Crepes" or simply put "Coriander Dosa" at Madhuram's Eggless Cooking.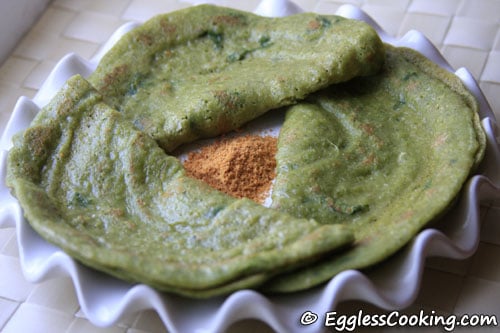 CILANTRO PICKLE: Uma of Essence of Andhra has a whole array of pickles, and this one which her husband made gets full marks from her! She says it smells as great as it tastes - I bet it does:)



CORIANDER PULAV: Easycrafts comes up with yet another delicacy at Simple Indian Food - this time from Mallika Badrinath's book. This one has to be a winner!





CURRY LEAVES / KADIPATTA:


CURRY LEAVES POWDER: How about storing some of these herbs? Easycrafts of Simple Indian Food gives you a way with karuvapalai podi.



IDLI FRY WITH KARUVEPPALAI PODI: If EC showed us how the podi is done, Priya's Easy N Tasty Recipes show us a way to serve them!!





DILL

- It is a weed but sort of fitted in the herb category because of its looks...please bear!

Dill Coconut Chutney: This is one of a kind. I have not come across this chutney before, but then one expects Sia of Monsoon Spice to weave magic with spices...oops dill!





MINT


MINT CHUTNEY: Priti of Indian Khana sent the much loved mint chutney. It is one of the most versatile dips I know of! Also check out the besan puri she made with this one!



MINTY GRANITA (GRANIZADO DE MENTA) - Andrea of 'Cooking Books' is a 'Studious Grad Student', and see what she comes up with in between her studies - A refreshing Granita straight from the "

Moorish nobility in the Andalusia of the middle ages " - Well..! Not exactly but we are almost there:) This cooler is inspired from"

The New Spanish Table

, by Anya von Bremzen". I am already thirsting for this one!



MENTHA RICE - Illatharasi's Vani serves this from Panchakam.com. Looks tempting!



MINT COCONUT PULAV - Anjali from 'The Big Bite' serves a tempting pulav with a coconut twist!



MINT PULAV - This one is my favourite for the aroma and the delicate taste of mint. Try it the way Easycrafts makes it at Simple Indian Food:



PUDINA CHUTNEY : EasyCraft's makes this one with coconut:



PUDINA CHUTNEY - VERSION 2: One dish, many ways - This is how Vani of Illatharasi makes it!




CHUTNEY ROTTI - "Got some left over pudina& coriander chutney at home?" Asks Lakshmi of Taste of Mysore. How about using them like this in a Chutney Rotti?



HERBAL JUICE: This one from Priya of 'Easy N Tasty Recipes' promises to keep you energetic the whole day long. Try it!

SWEET NOTHINGS:

AVOCADO MILK SHAKE - I saw this and drank the picture:) Raaji from Raaji's Kitchen!!



GREEN JELLY: This one is simply luscious looking - a great kiddie party idea - another one from Priya of 'Easy N Tasty Recipes'.



PISTA AND CHOCOLATE ROLLS - DIVYA, a health conscious cook at ".....and a little bit more" says - "Lately, my readers have been intimidating me! I was thinking they were being courteous when saying that they will "try it out" soon, but they are actually trying out the recipes that I put out on my blog! :p". These LOW FAT pista and chocolate rolls she sent sure makes me say "Give a little bit more....."



PISTA BURFI - Lubna of Yummy Food has a lot of yummy snaps too! One look at these is sure to send you off to her blog! Isn't it just fab? No wonder they are smiley happy nuts!!


Labels: Blog event - FIC Round up