I hadn't heard of any other pasanda except 'Paneer Pasanda' before I read this recipe in the Nutrela Soya Mini Chunks Packet! I have had pasanda just once, and was put off by the sweetness in it! Like I have said several times before, I am not one who appreciates sweet, spicy and sour together in one dish. The dish has to decide what it falls under before I taste it, and when it is a sweet - Well! It may contain less sugar but definitely not salt or any other taste! Yes! I am a little fussy that way, but then I am human, and I have my preferences!

When Sia announced JFI - Soya for August '08, I for one was thrilled!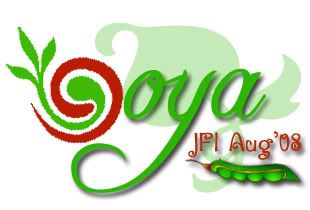 That is because soya actually jagaaos me! I like its chewy texture, and enjoy tofu too, especially the spiced variety! This time I took EC's advice and decided to blog all my entries while the net is still working uninterrupted and make use of the scheduled posting! I do not really know why I never bothered to use it probably because the connection never lasted long enough for me to complete my chatty posts?? Who knows! Maybe that's a lesson....! The recipe follows.....(see I learn my lessons soon!!)

The dish turned out very tasty but then I am partial to tomato gravies and love them anyhow! My husband is non-veg and does not get much at home, as I the kids and I are vegetarian and I even try to block out the smell of non-veg cooking by drawing the glass across the window. Ideally we are a family of a vegan, two vegetarians and one non-vegetarian, and I try my best to make my veggie options as tempting as possible! The soya nuggets, P says are closest to Non-veg, and I remind him as always - without the cruelty involved! He nods sagely!!

Ingredients:
Nutrela soya mini chunks - 2 cups (Cooked as per instructions on the pack)
Cumin seeds - 1 tsp.
Garlic grated - 2 tsp.
Onion paste - 1/2 cup
Tomatoes - 1/2 cup (Finely chopped)
Turmeric powder - 2 pinches
Red chilli powder - as per taste
Salt - to taste
Green peas (Shelled) - 1 cup heaped
Coriander cumin powder - 1 tsp.
Oil - 2 tbsp.

Method:
1. The recipe calls for frying the granules after cooking. I omitted this.

2. Heat oil and splutter the cumin seeds. Add ginger, garlic, onion pastes and fry on slow fire till the light brown.

3. Add tomatoes, haldi, red chilli powder, salt and peas and cook till the tomatoes turn soft and mushy. Add water to cook to get desired consistency. I kept it a little thickish as I served it with parathas.

4. Add nutrela chunks and coriander cumin powder, and cover and cook till the masalas blend well.

5. Garnish and serve hot.

I am sending this balti to Srivalli for her Curry Mela.

Srivalli's blog Cooking 4 all seasons is a goody bag in itself! I am sure you will go over and find something of your choice and more you will love to try!




And ......yeh pasanda pasand aaya? (Did you like this pasanda?)

Labels: Blog events, Colour - Yellow, Cuisine - North Indian, Ing. - Peas, Ing. - Tofu, Vegan - Side dish